TORONTO AND YORK REGION'S AWARD WINNING LANDSCAPE CONTRACTOR

No Deposit No Payment Until Project Completion
Up to projects of $50,000
TORONTO AND YORK REGION'S AWARD WINNING LANDSCAPE CONTRACTOR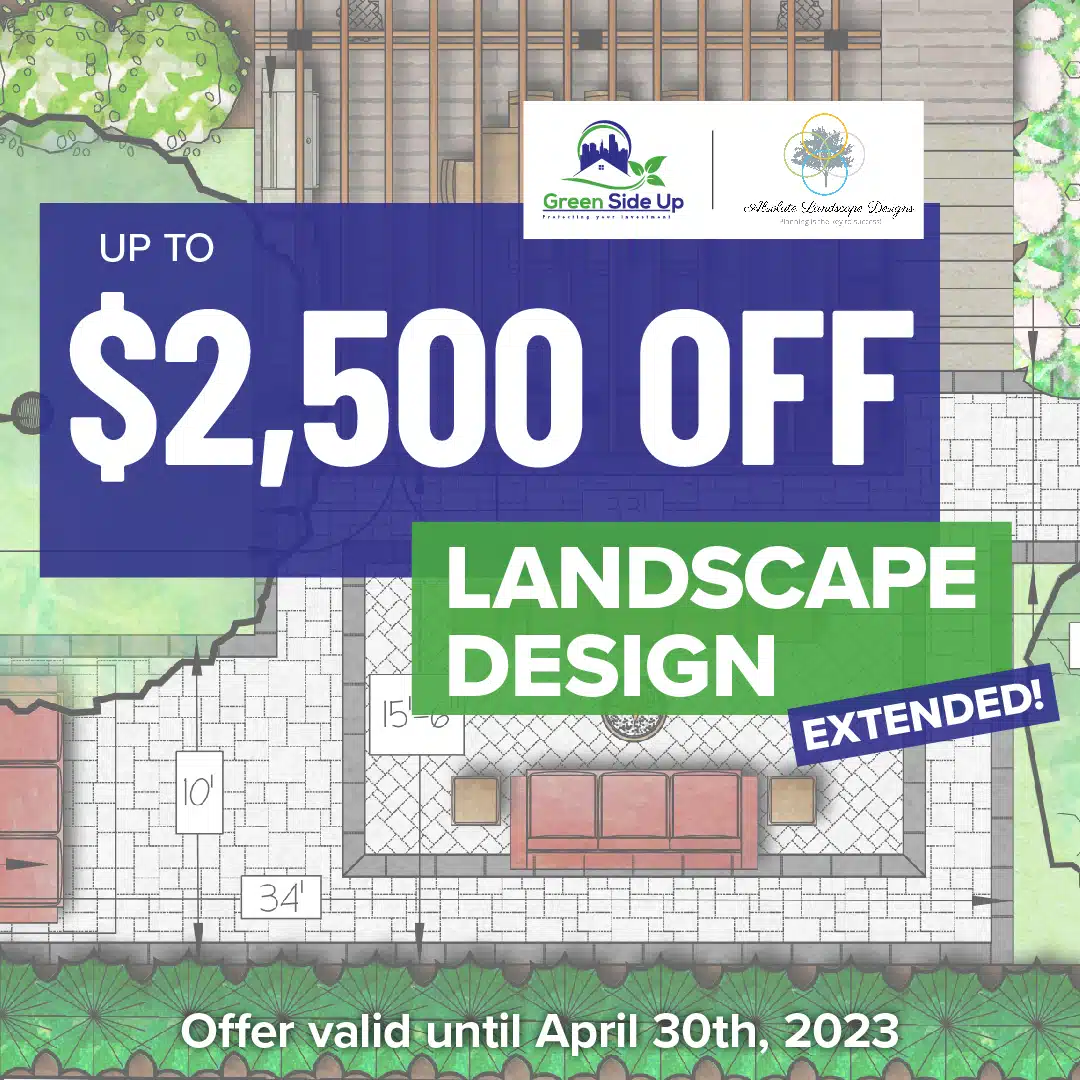 NO DEPOSIT OR PAYMENT REQUIRED UNTIL PROJECT IS COMPLETE
Projects Up To $50,000
At Green Side Up Contracting, Jay strongly believes that every project starts off with a solid plan designed by a professional, with the design and materials agreed upon by you, and built to the highest standards by us! As the old saying goes, 'If you fail to plan, you plan to fail!'
To help us deliver excellence to you, while ensuring your investment is protected, we have partnered with two professional landscape architects and a very creative landscape designer who can assist you with everything from design to material selection!
INSTANT QUOTE
INTERLOCK COST CALCULATOR
Green Side Up Contracting is a full-service landscape construction and carpentry company that offers:
Interlocking driveways, patios, & walkways
Retaining / garden walls
Natural / armour / flag stone
Concrete pads
Plantings
Pool installation
Trex & cedar decking
Fencing 
Custom carpentry
To better serve you and to help you establish budget, please visit our Instant Cost Calculator 
THE 3 BEST REASONS TO HIRE A LANDSCAPE ARCHITECT
They have the professional skills and eye for detail.
"Let's face it, we would all love to be our own DIY champions. Unfortunately, for most of us (myself included), there's only so much we can do. However, if you decide to hire a landscape designer or architect, they will approach the job with the utmost skill. The upshot of this is that they will work with the environment and create a space that is both natural-looking and functional. This is something that the average person simply cannot achieve. Let's put it this way: would you rather have a child fix your car or a mechanic? In terms of knowledge, we are all children in some areas, and there's no shame in recognizing that. So be wise and hire a professional. You will not be disappointed with the results."
They have the established connections.
Part of the value in hiring such a professional to design your dream space is that they also have connections to trusted individuals and companies. This can reduce the stress of looking high and low for a good, reliable contracting service. So, you won't just be hiring the designer/architect, but you can also tap into their connections and support network. The value this adds cannot be measured in dollars.
They are the perfect combination of creativity and technical know-how.
The last point is this: you simply won't find anyone better to bring your vision to life. With years of rigorous training needed, these specialists are the surest bet to create your dream outdoor space. To top it all off, they will do all of this while keeping the area sustainable and eco-friendly. Just be sure to hire the professional that suits your needs. Keep in mind that a landscape designer can do less, so don't be afraid to shop around.
The cherry on top? Hiring a professional allows you to spend less time worrying and more time enjoying the finished space.
This project has been in the making for years. It wasn't until we met with Jay that we started to see what the final product could actually be. Jay was open and honest with us about what would work and what wouldn't. When the project began, the crew was respectful of our property and it didn't feel like a typical construction site. The end result was beyond what we ever expected! I would 100% recommend Green Side Up Contracting.
We can't thank Jay and his entire team at Green side Up Contracting for their hard work this past summer.
We reached out to Jay in May with a plan of doing a large project that included a new fence (Dan & Co.), deck (Chase & Co.), stone patio and new garden retaining wall (Rob & Co.). I'll let the pictures below speak for themselves and the hard work everyone put into our backyard space.
Jay was with us every step of the way and was always available to help with our questions and guide us where needed, as well as to assist in keeping the projects moving along. Honest, hardworking, organized, and reliable is how I would describe these people. I'd also throw in "tidy", as our neighbours came to us after to say how impressed they were with the daily cleanup work.
It was a joy to work with you all, and we actually kinda miss everyone! Haha:)
Thank you all again!!
We just moved in to a new house and wanted a front and back patio as well as a sidewalk and hot tub area. We had Green Side Up as well as three other contractors quote on the project. Jay's quote was competitive and he seemed to understand our desire for a combination of style and function. Jay brought in Aislyn to do a full design of the project. The design was invaluable as it gave all the people involved a clear and uniform view of the overall project. Chase and his crew built a custom pergola that met all our requirements. Rob and his team poured concrete slabs for the hot tub and storage shed and installed a front and back paver patio with a connecting walkway as well as landscaping with plants and design elements recommended by Aislyn. Jay coordinated the whole project and kept us well informed and arranged for stone veneer on the front porch and stairs as well as aluminum railings and gate to complete the project. Everyone on the project was professional and worked hard to meet our needs. We enjoyed working with them. We are very happy with the result and recommend Jay and the whole Green Side Up team for any landscaping project.
Our Condominium Corporation hired Green Side Up Contracting (Jay) to demolish and replace our 355 linear foot border fence shared with another Condo complex. Green Side was in constant contact before and during the project, including progress photos. There were challenges not initially seen in order to have the project done correctly that were immediately communicated and resolved. Extra costs needed to be added to the initial quote but the added expense by a third party for the rental of an h-vac truck was presented with a copy of the third party's invoice enclosed; no hidden fees. Our Corporation is very pleased with Green Side Up's services, this is our second time in 5 years that we have hired them to complete a project and we will definitely be calling them again for another project next summer. Thank you Green Side for a professional looking job, very well done.
Marion
Newmarket, Ontario