I often get asked what helical piles are and what is the difference between helical piles and concrete footings.
I'll start off by explaining what a helical pile is: Helical piles are hollow steel tubes that are used to stabilize structures by anchoring the load to the surrounding ground, much like a driven pile. However, the 7' helical piles are screwed deeply into the earth, and additional sections can be if necessary to obtain the proper torque.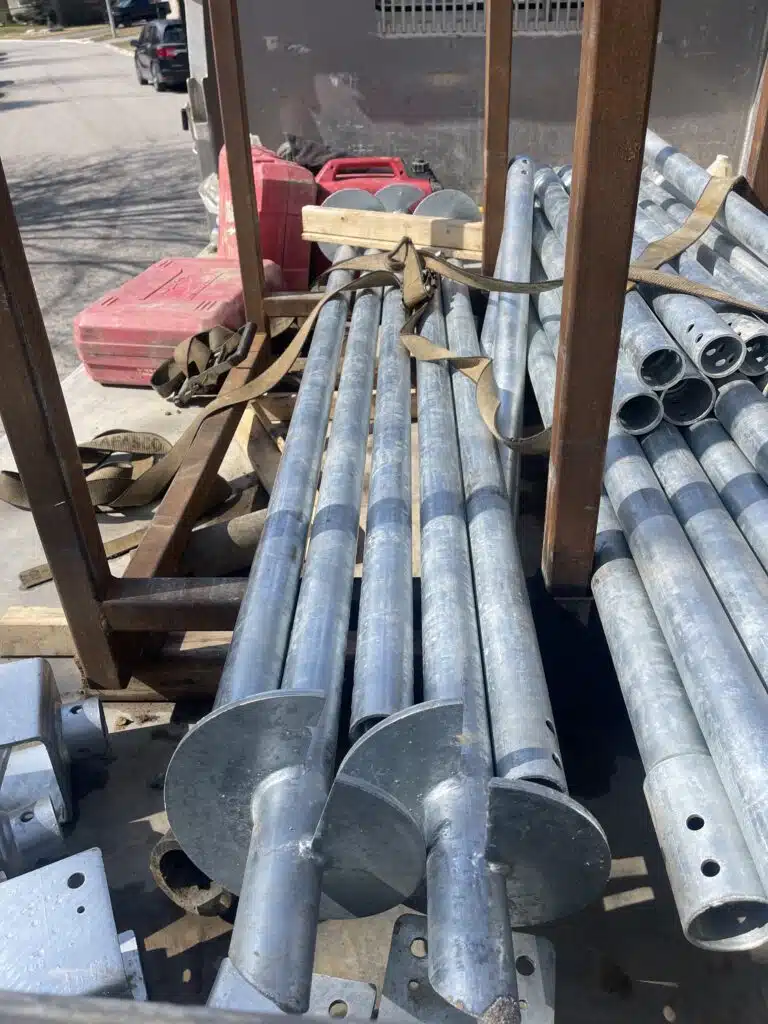 Now here are the differences between concrete footers and helical piles:
CONCRETE
Requires a foundation inspection prior to pouring concrete and can oftentimes delay the project especially if there has been a lot of rain. (Cannot pour concrete if there is water in the hole).
Messy and time-consuming
Often times is much more expensive than using helical piles. This holds true for almost all installations except for decks. For decks, screw piles can sometimes be more expensive.
Can often heave due to frost.
Can also sink due to the weight of some of the larger foundations.
Don't know the quality or load-bearing capacity of the soil at the bottom of the concrete foundation, the only requirement is to go down 4ft deep.
Need to clean up and get rid of the excess soil removed from the hole during excavation.
Need to wait for the concrete to cure in order to start construction.
Cannot generally be installed during rain or winter conditions.
Can be damaging to root systems.
HELICAL SCREW PILES
No need to wait around for an inspector, we supply a conformity report after installation through a torque report.
G-185 Hot Dipped Galvanized for use with Pressure Treated lumber.
Piles cannot be moved by frost. (frost heave)
No sinking.
Proper and accurate load-bearing capacity each and every time due to the specifics of digital torque monitoring during installation.
No soil to clean up after installation.
Canadian Construction Materials Centre approved with a Minister's ruling.
Fast and clean installation.
Ready to start building on immediately.
Generally, less expensive than concrete for most applications. (Certain deck applications can be more expensive than concrete).
Removable.
To summarize:
Helical piles have a huge advantage over concrete: they allow you to reach the ground level that offers the best stability, which is not the case with concrete foundations. They are much more robust, the installation is much cleaner and by using helical piles, you will be left with a much nicer finish on your deck.
At Green Side Up Contracting we have been using piles for many years and we will not look back!
If you would like to see how they are installed, please watch this video.