There's plenty of different materials you can use for your deck, but without a doubt the best material to go with is Trex – it completely blows out the competition and it's an installation service that Green Side Up recommends and provides.
Designed with lasting beauty, incredible durability, and easy maintenance, there's no compromising with high-performance composite decking. That's why high-performance composite is the only type of decking we make. We've paired Trex against other types of decking for a head-to-head comparison that proves Trex out-decks, outlasts and outperforms the rest.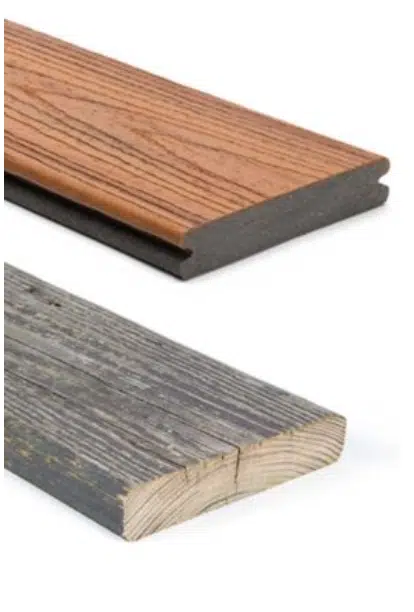 Everyone loves the natural look of wood but hates all the painting, staining and sealing. Wood decks of all types, including pressure-treated wood, ipe, cedar or redwood, require extensive upkeep. Trex was designed with the beauty of wood decking, but not all the maintenance. Trex's high-performance, eco-friendly composite boards withstand years of sun, sleet and snow, keeping their rich color. Through it all, we have never felled a single tree. So when comparing composite decking vs. wood, there's no competition as to which decking material is best.
Wood decks can rot, split, swell, twist and fade and crack from insect infestation. Wood requires annual painting, staining or sealing and can splinter easily, whereas Trex offers none of those cons.
Another option that people sometimes consider is PVC decking, which is another low-maintenance alternative to wood. Just like composite, PVC can resist rot, termites and mold. However, PVC decking is far less environmentally friendly, produced mostly from virgin plastic. Compare that to the ultra-green Trex board: made with 95% recycled materials and eco-friendly manufacturing processes, Trex never loses its sophisticated color or performance.
PVC materials unfortunately are prone to chalking and are more likely to shrink and expand with temperature fluctuations than composites. PVC also can fade and stain from rubber mats, sunscreen and insect repellent. At Green Side Up we specifically provide and install Trex decks because we truly believe that is the best material for your deck. Contact us today to find out more benefits and to set up what deck is best for you.